Unassigned Task
Posted by i3Teamworks Admin on 26 Jan 2018
Sometimes a task isn't immediately actionable when you create it, which can make it hard to decide who to assign it to. In these instances, you can leave a task unassigned so it can be claimed or assigned at a later date.

If you want to create an unassigned task, simply select the "Assign To" field to "Unassigned" (at the top of the list) when creating a new task or editing an existing no progress task.
1. Go to Works
and choose Task Management
2. Go to Add Task tab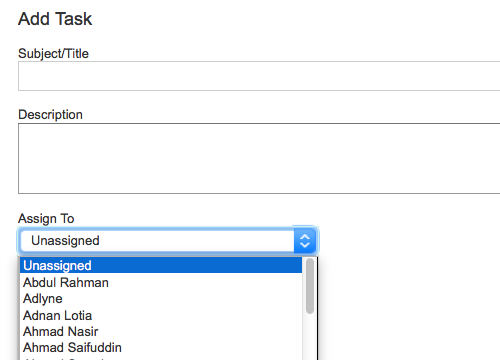 Existing unassigned tasks will be listed at the "Unassigned" tab. Only the one who created the task and all in the CC list can view the Unassigned Task List.
To pick or claim a task simply click at the Task Title to go to the task details and click at the "Pick This Task" button.

Once you've picked a task you can start your task as usual.